Got to the Barnea Tavern at 11.30 last night. To my chagrin, I ran into an ex, Dan Heckman. And Ryan. And a whole whack of other people I didn't know I knew (you know?). So that part was weird. And then I saw the precise people I came to be with:
sugarwaffle,
_strangedays_, Raf, and Brian (of the superslutty cowboy hat). Other surprises: Jessica Poindexter, Cassie Nigh (I went with her to get my first tat two and half years ago), Rachel Sparks, Emerlee Slute, Korren Adams (can I ask how she ended up in her bra?), Patricia DiRuscio, Jeremy...just a lot of people. It was pretty busy at the tavern last night.
I have never been: so grinded (ground just doesn't sound right in this context), so butt-slapped (-pinched -grabbed), offered drinks, spilt on (or almost), or told I look good in a cowboy hat by so many different people in my life.
Many many people tried to get me to dance. I. Don't. Dance. At least, not when anyone can see me. *snicker*
The band was OK. Can't do Ozzy, that's for sure.
Brian's cowboy hat was king (actually, Wild Bill was king, but that's different kingliness altogether) and I'm pretty sure half the bar wore it. Mostly Brian.
At one point, I was standing and this guy came up to me...6'3", I swear, and murmured something in my ear about me wearing rule-breaking pants or belt (my belt had chains dangling all over it reminiscent of a basketball hoop) or shorts (I was wearing jeans). He was drunk. I must have given him one of my best death stares, because I looked at him and all of a sudden he was telling me he was kidding. Reflecting, I believe he was trying to get my pants off. Ryan saved me by asking what time it was.
Tori got considerably drunk. She couldn't stand in her shoes. She was wearing slipper-type things. Hardcore Tori, fallin' off the flats. Then she made out with Brian. Considerably. Rampantly. Kissing. And both of them looking for all the world like it was the most natural thing in the world for two close friends to make out at a bar and fall on Emily.
Foursome dance? Weird, guys. That was weird. If you don't remember, allow me: Brian grinding Emily's front, Tori the same to Emily's rear, and Heckman to the back of Tori. One pulsing, eight-armed, single cowboy-hatted, tipsy, dancing thing.
I drank two cokes at the bar and a bottle of water when I got back to my car.
There is no need to apologize for being drunk around me. I'm an adult, I realize people drink if I don't. If it was a problem, I wouldn't have gone to a BAR.
I gave the tongue-wrestlers rides home. Tori felt exceedingly sick (I was no help, I missed streets and took sharp turns. Sorry Tori) and I was really hoping she wouldn't regale me with vomity beer in my car. She kept telling me she loved me and apologizing for being drunk . It was fun times. Funniest moment? Tori saying "Can you turn off the A/C? It's hurting my eyes." I still think that is comedy gold. Not quite up there with "My pocket's wet" said by yours truly earlier in the day.
My voice is still hoarse from the yelling and the laughter.
If Heckman is going to be at the Max tonight, there's no way I'm going. He apparently has some juicy dirt on Dave that he won't tell me and it infuriates me. The way he always thinks everything he's done is so much greater than anything anyone else has done. Of course, he is a Leo. And he repeatedly tried to get me to dance.

On the home front this morning, I woke up to a murder scene. Vik, shell-less with a severe case of rigor mortis, in the freshwater dish. Max was wearing Vik's old shell and Speedy was checking out Max's old shell. I miss Vik already. I have to get more crabs, though, cause I need a group, not a pair.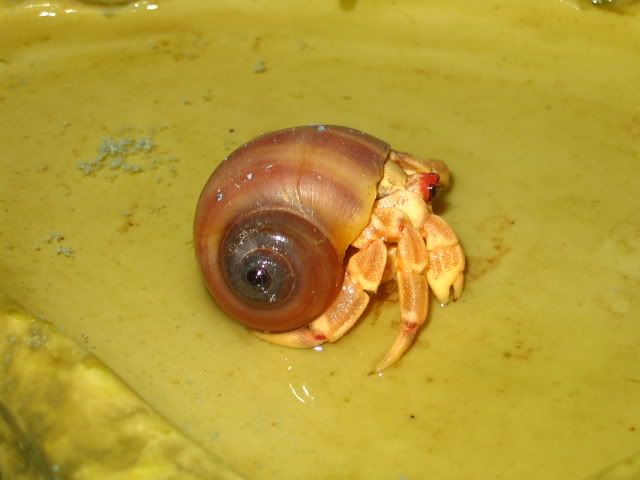 My dad is irritating me in the worst way right now, asking me a whole bunch of questions and saying stupid things "look at my portable TV, my monitor's not quite 16 inches, the big screen in exactly 60 inches, let's buy a 21 inch monitor!" He's bragging. I hate when he does this. I'M NOT IMPRESSED! I need to get out of here.