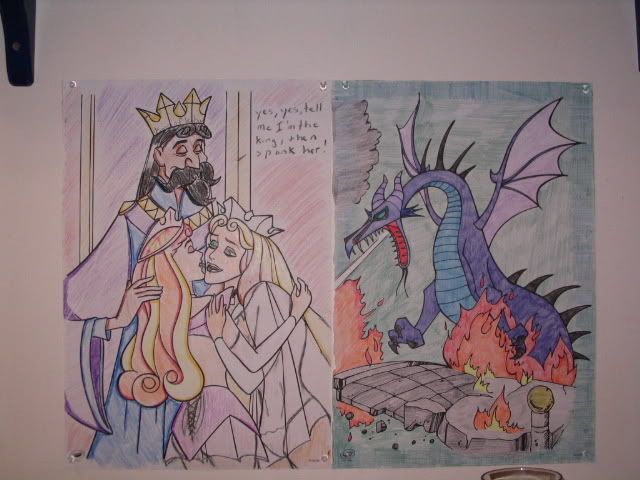 The king is saying: Yes, yes, tell me I'm king then spank her! The mother is the heroin/crack addict with the green eyeshadow and the other is Sleeping Beauty. The king's crown says King of Lesbians. That's Jaclyn's picture. It's done in Crayola crayons.
Mine is the purple dragon burnin' shit up. He's hetero dragon, and burns shit 'cuz of the slutty lesbianry going on next door. Look at that shit! I used only Laurentien pencil crayons; some of them were shimmery!!!one!
CLICK HERE FOR PREVIOUS ONES!"
Too bad we don't still have Jaclyn's old one with baby Wonder Woman with a penis. Also, I coloured more of them tonight, just doodles...racist jokes and pee.
We went to Starbucks. Not only was the traffic TERRIBLE in the Honeymoon Capital (Niagara Falls, for those of you that haven't heard of that particular moniker), but the fucking yuppie-heads in Starbucks gave us dirty scuzzy looks. Every single retard there was dressed the same, had their hair done alike, and the girls had the same makeup. Dirty looks had from every direction while I loudly laughed at all the 'yuppie idiots with the same haircuts' (loudly proclaimed) and how stupid a $5 diaper-smell French press coffee was. Oh man, did we have a blast! I couldn't stop laughing at them! I'm eating a donut right now, and it tastes bad :(
Feeling:

accomplished
Tags:
Latest Month
April 2017
S
M
T
W
T
F
S
1
2
3
4
5
6
7
8
9
10
11
12
13
14
15
16
17
18
19
20
21
22
23
24
25
26
27
28
29
30